_01. yoyo bite (7:17) 214 or 107 BpM

_02. metal (12:40) 144 BpM

_03. hard judo in love: get by (4:36) 124 BpM

_04. strange thing in my kitchen (8:20) 161 BpM

_05. auto lift up pine up (4:48) 128 BpM

_06. des pierres frottées (00:28)

_07. Ono joue avec son ballon (4:18) 140 BpM

_08. la chambre d'extase (11:20) 86 or 172 BpM

_09. le Teub-Up-Style (3:35)

_10. bonus track metal void [metal remixed by Flaz & dj Rob]
"All these music are not using any synthetic sounds but continue the musique-contrète approach using existing sounds. In YOYO BITE there is tape scrolling sound, bowed nails sounds, trombone mute sound, mixed with tabla, hihat and electric guitar played as percussion. METAL was made with sound of one square meter metal plate. HARD JUDO IN LOVE: GET BY was made with lamp's sounds and different kicks. STRANGE THING IN MY KITCHEN was made with kitchen tools as water, sauce pan, wood spoons, glasses, different type of stones, bricks, door, fire works, metal rubber, laugh. AUTO LIFT UP PINE UP uses TV sounds mixed with double bass, kicks and snares drum. DES PIERRES FROTTEES are rubbed stones. ONO JOUE AVEC SON BALLON used the head of ONO the giant drum string puppet, bouncing balloon and tear up paper with hihat. LA CHAMBRE D'EXTASE mix the voice of a child muezzin with dervish choir and lot of dub instruments during raining time."
Myster Shadow-Sky samplers - computers - composition - artwork
Agata Siecinska black & white photos
Trapped, Mixed & Mastered @ Le Centre De La Bombe in Forgues / France
Mathius-Shadow-Sky-Unexpected-Waves-Production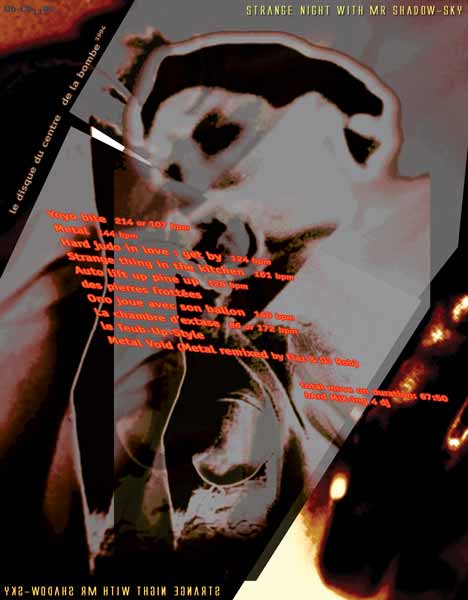 download: outside booklet 1.5mb - inside booklet 1.3mb - tray inlay card 1.1mb - CD label 1.3Mo
dOwnlOad the album in the centre of the bOmb
Shadow-Sky-Teub-System the quadraphonic shocking waves music
Les Arts de l'Etrange the center of the bomb events' management
Le Disque du Centre de la Bombe the center of the bomb records label